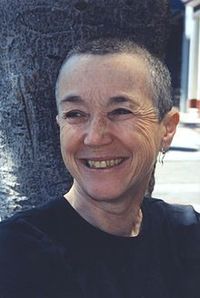 I'm an artist and a visual activist. My work includes my two books, Women En Large: Images of Fat Nudes and Familiar Men: A Book of Nudes, and my Japanese photographs, Women of Japan. I always work in collaboration with the people and communities I photograph. My black-and-white images are  intimate and vivid fine art portraits. Since these are social justice projects it's important to me that the work be seen. My work has been exhibited on 3 continents and in many cities, including New York, Tokyo, and  London.
 For most of my 30 years as a photographer, I was a black-and-white fine-art photographer working in the darkroom. Now I'm passionately involved in making giclée prints of digital pandemic shadow images. The lockdown has made me pause, observe and create images of shadows that depend on light and time and sometimes air. For me they capture an essence of this pandemic time.
 
I live in San Francisco in my studio and garden with my cat George and have two fabulous daughters. I have always lived in intense communities of art and intellectual collaboration.
 
I'm Jewish, I'm queer, and I grew up in another world (the 1950's), with good art and monsters.
My Wikipedia page and my CV have much more. John Wells interviewed me when I had a major exhibit in The National Museum of Art, Osaka.