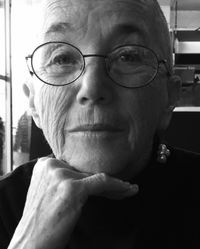 In 2022, Patricia Otani, of the NCWCA (Northern California chapter of the Women's Caucus of the Arts), did an Artists Interview with Laurie (edited by Elizabeth Addison). Laurie talks about the art and the work of getting it our into the world. It is available both on the NCWCA website (with other interviews of successful artists) and on Vimeo. Some of the video is 'zoom' quality, but again the slides of the work are excellent.
In 2016, Occupy Sonoma County held a Body Oppression Teach-In, which featured an hour-long interview and presentation by Debbie and Laurie, covering Women En Large, Familiar Men, and Women of Japan. The discussion focuses on the work and its impact on society. The slides of the work are very well done. It is still available on YouTube.  
In 2001, Documentarian John Wells filmed Laurie being interviewed by Professor Rebecca Jennison in Kyoto.  They discuss her work from "Meditations on the Body," her solo exhibition at the National Museum of Art, Osaka - 100 photographs from Women En Large, Familiar Men, and Women of Japan.  It was available on YouTube in three parts - we're looking for a new connection.