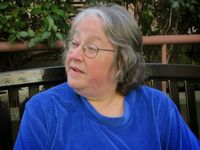 Debbie Notkin
is Laurie Toby Edison's writing partner. She wrote and edited the text for
Women En Large: Images of Fat Nudes
and edited the text and co-authored the keynote essay for
Familiar Men: A Book of Nudes.
She and Laurie have worked together since 1984 on issues of body image and visibility, writing and co-authoring numerous essays and papers .
In mundane life, she is a contracts manager for a large nonfiction publishing company. She is on the motherboard of the James Tiptree Jr. Literary Award Council. When she was guest of honor at WisCon in 2012, she wrote half of Impolitic (Andrea Hairston, the other guest of honor that year wrote the other half). With Karen Joy Fowler, she compiled 80! Memories and Reflections of Ursula LeGuin as an 80th birthday present for the renowned author. She also works as an organizer of Strike Debt Bay Area.
She lives in Oakland, California.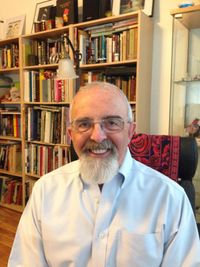 Richard F. Dutcher has been an Air Force brat, a shoe salesman, a research manager, a social and peace activist, a writer, an uncle, a teacher, was almost a scientist, and is now retired. He is a co-author of the keynote essay for Familiar Men: A Book of Nudes, and a co-author of The Tom Peters Business School in a Box from Alfred A. Knopf.

Working with Laurie Toby Edison has literally changed the way he sees.



Ctein is one of the last makers of dye transfer prints in the world and one of the finest color printers alive today. His prints reside in collections around the world, including ICP in New York, the Library of Congress, and the British royal family.
According to the editor of PHOTO Techniques Magazine: "Ctein may well be one of America's most accomplished unknown photographers."
Ctein is also the author of several hundred articles on photographic techniques and the book, Post Exposure — Advanced Techniques for the Photographic Printer. More information about Ctein, and his exceptional online gallery of his work can be found at http://www.ctein.com/
--RFD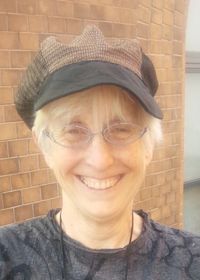 Rebecca Jennison teaches Gender and Cultural Studies in the Department of Humanities, Kyoto Seika University. She has published numerous articles about women artists working in Japan including "Post-Memory in the Work of Oh Haji and Soni Kum" in Zansho no Oto (Iwanami Press, Tokyo, 2009), "Silence, Secret and Sex: Recent Works by Shimada Yoshiko," (C-ARTS Special Issue: Asian Women Artists, Singapore, May, 2009), "Images for a Turbulent Time" in  Hiruko and the Puppeteers: A Tale of Sea Wanderers (Gendai Kikakushitsu, Tokyo, 2009), and Hyogen suru Onnatachi, a collection of essays about women and the arts (co-edited with Matsuno Kiyoko, Daisan Shokan, Tokyo, 2009). Imagination Without Borders: Feminist Artist Tomiyama Taeko and Social Responsibility (co-edited with Laura Hein, Center for Japan Studies, University of Michigan, Ann Arbor). She co-curated  the exhibition, Art, Performance and Activism in Contemporary Japan (Pump House Gallery, London, 2012) in which works by Yamashiro Chikako, Soni Kum and others were shown, and collaborated on a bi-lingual publication  of  MOVE: Ito Tari's Performance Art (Impact Shuppan, Tokyo, 2012) She is currently working with Brett de Bary on a co-edited volume titled Still Hear the Wound: Toward and Asia, Politics and Art to Come  (Forthcoming from Cornell East Asia Series.)
 

Rebecca Jennison met Laurie Toby Edison on her first journey to Japan in 1996 in conjunction with the Gender Beyond Memory exhibition held at the Tokyo Metropolitan Museum of Photography. In 2000, she coordinated an exhibition of LTE's photographs, Women en Large and Familiar Men, at Gallery Fleur, Kyoto Seika University, and assisted with the Women of Japan project by introducing some of the models, translating and accompanying Laurie to Okinawa in 2004.