"I was knocked out by [these] beautiful images of bodies. Thank you so much for ... putting out such beauty and passion,"
--Eve Ensler
Author of The Vagina Monologues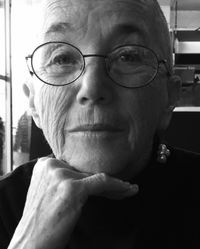 I've been a photographer and a visual activist for about 26 years, mostly taking fine-art black-&-white darkroom portraits of real people who are outside the narrow range of images usually available.  I am currently passionately involved in my work in progress,
Memory Landscapes
, a visual memoir that I am creating as a color multi-layered and multi-dimensional iPad art project. 
I always work in collaboration with the people and communities I photograph.  I created my two books,
Women En Large: Images of Fat Nudes
and
Familiar Men: A Book of Nudes
[link], because I wanted to show the beauty and power of diverse and familiar bodies that we see every day, of people we know and love. 
Women En Large
came out of my anger and political work around the prejudices and discrimination against fat women.  It also became my statement on the female nude. 
Familiar Men,
my slant on the male nude, is about masculinity, the extreme limitations of the boxes men are forced into, and the revelation of a more expansive reality. 
The photographs were of nudes because our lives are written on our whole bodies, not just our faces.  If the goal is to change deep social prejudices, a portrait of a nude can fix attention on the total individual.  And if the portrait captures a sense of the individual, then the viewer is in a conversation with the person in the photograph.  Most images are designed to tell you what to think.  My portraits invite you to know the person. 
I went to Japan in 1996, when I had 12 photographs in "Gender: Beyond Memory," a ground-breaking feminist exhibition in the Tokyo Metropolitan Museum of Photography.  I met an amazing group of feminists there, and realized that the homogeneity of Japan was a myth.  This inspired my project
Women of Japan,
clothed portraits of women of varied backgrounds and culture, done in collaboration with the women I photographed. 
I blog at
Body Impolitic
with Debbie Notkin and various guest bloggers on a wide range of body image and photography topics.
Tee Corinne
was a very close friend and a major influence on my visual activism, and I want people to remember her.